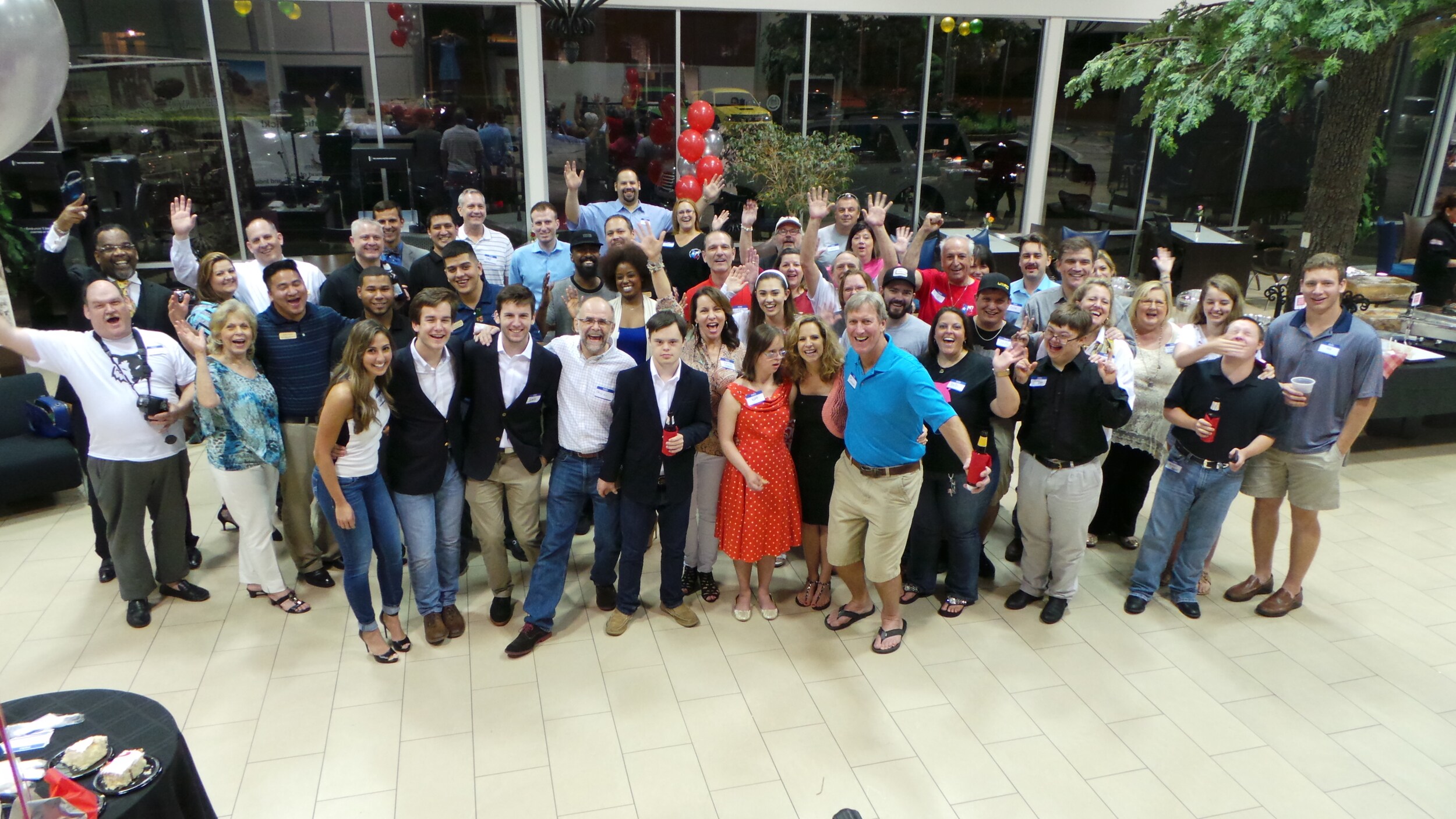 "Thank You!" said Nick Jones, 2015 graduate of Highland Park High School and part-time employee with Park Cities Ford in Dallas. "Thank You!" he said again to the 50 friends, family and co-workers who joined him Saturday, May 16 in the Showroom to celebrate a milestone in his life- made more significant by the fact he is an 18-year-old young man with Down Syndrome.
His family made sure that Nick's favorite DJ @JayClipp was there to play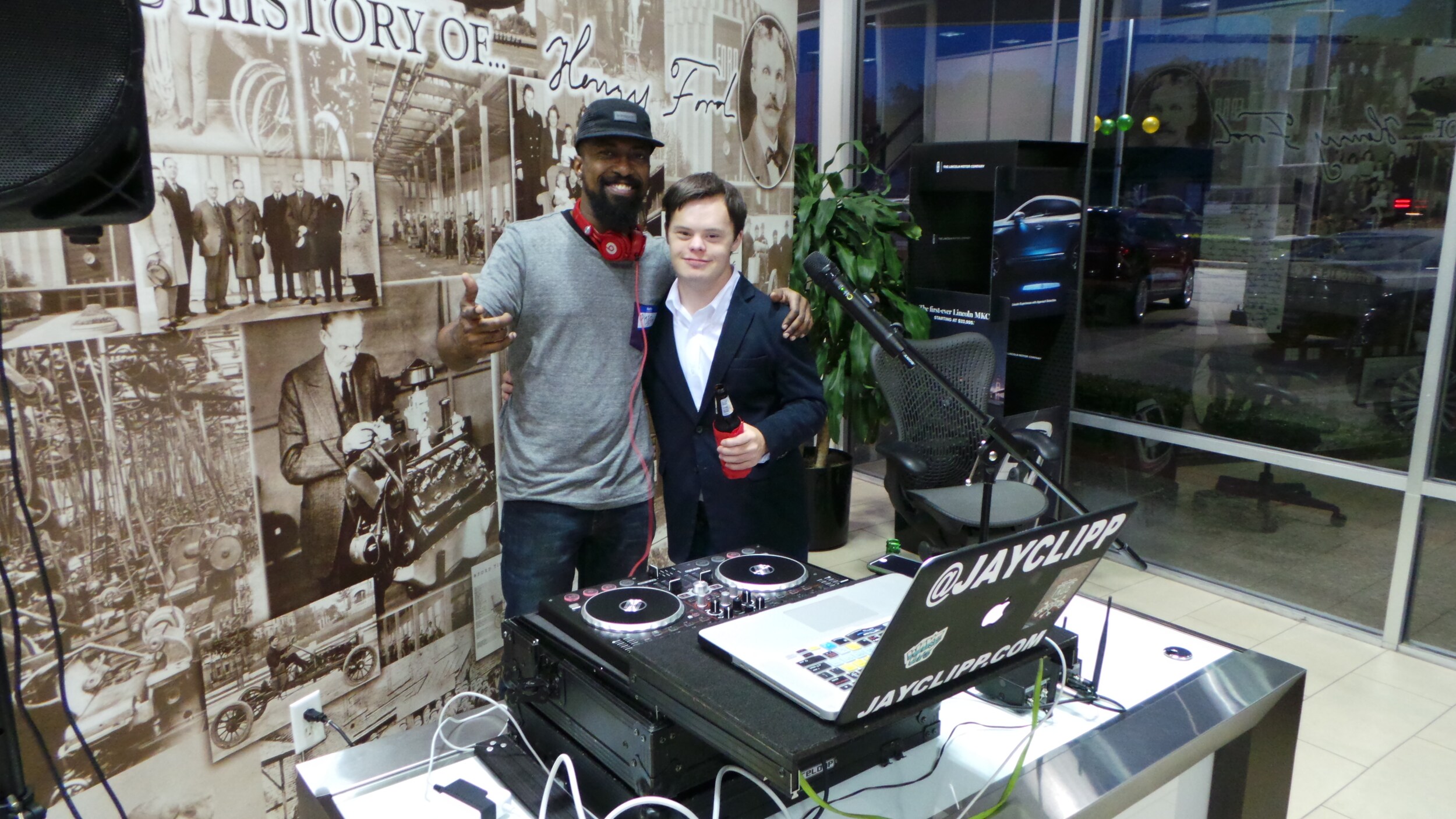 tunes and provide dance music. BBQ sliders and rootbeer seemed to be Nick's favorite snack. But opening gifts from the Lone Wolf Mustang and Ford Collectors Club was a highlight - as they made him an honorary member and provided him with a club athletic-style jacket.
A little more than a year ago, Nick told his job coach Tyson Peterson, that he wanted to work around Ford Mustangs. The goal was for Nick to secure a student internship on his own that would meet the requirements of his life skills class. So an interview was set up with the dealership management team who approved the internship and begin a relationship with Nick that has since turned into a 15-hour a week part-time job that he will maintain after he graduates at the end of May.
Nick has worked after school to check the dealership's large inventory of new and pre-owned vehicles to ensure they are locked, windows rolled up, tires inflated and truck tail gates secured. He also polishes the showroom display vehicles so no dust or fingerprints mar the shiny finishes. His diligence and engaging playfulness with the sales team quickly earned him the rank of "brother."
"Nick isn't like a brother, he is our brother," said sales consultant Alonzo Gallaread. "We get more out of our relationship with Nick than perhaps he does from us," added Greg Tomlin, the store's GSM. "He inspires us to be the best we can be."
Managing Partner Jeff Enright says hiring Nick was an easy decision. "He's a fine young man and he is passionate about what he does for us. We could have easily said, 'No, we can't do this.' But we didn't. We took a chance on a young man who wanted an opportunity at becoming as independent as he possibly can be in life. We felt that our team was mature enough to handle Nick's unique qualities in a way that made him feel appreciated and respected for his abilities, not his disability."
Nick has a routine that he follows and he uses two clip boards with tasks adhered to the them with Velcro strips. One is labeled TO DO and the other is labeled DONE. He uses a push cart and hand caddie to carry his supplies and to keep up with his backpack, name badge, cell phone and bottled water. His cell phone is alarmed to remind him when it is time to clock out.
Over the past year, Nick's accomplishments have attracted a lot of attention from local news media, Mustang fan clubs, other families with kids with special needs and Ford customers in general. He's not sure to think about all of that, but his parents say they could never have imagined that Nick would com so far in such a short time. Katie Jones, Nick's mother, said, "We know Nick is capable of so many things. He just needs to be given the chance to try." Nick's father quipped, "Nick is currently earning more money than his older and younger brothers!"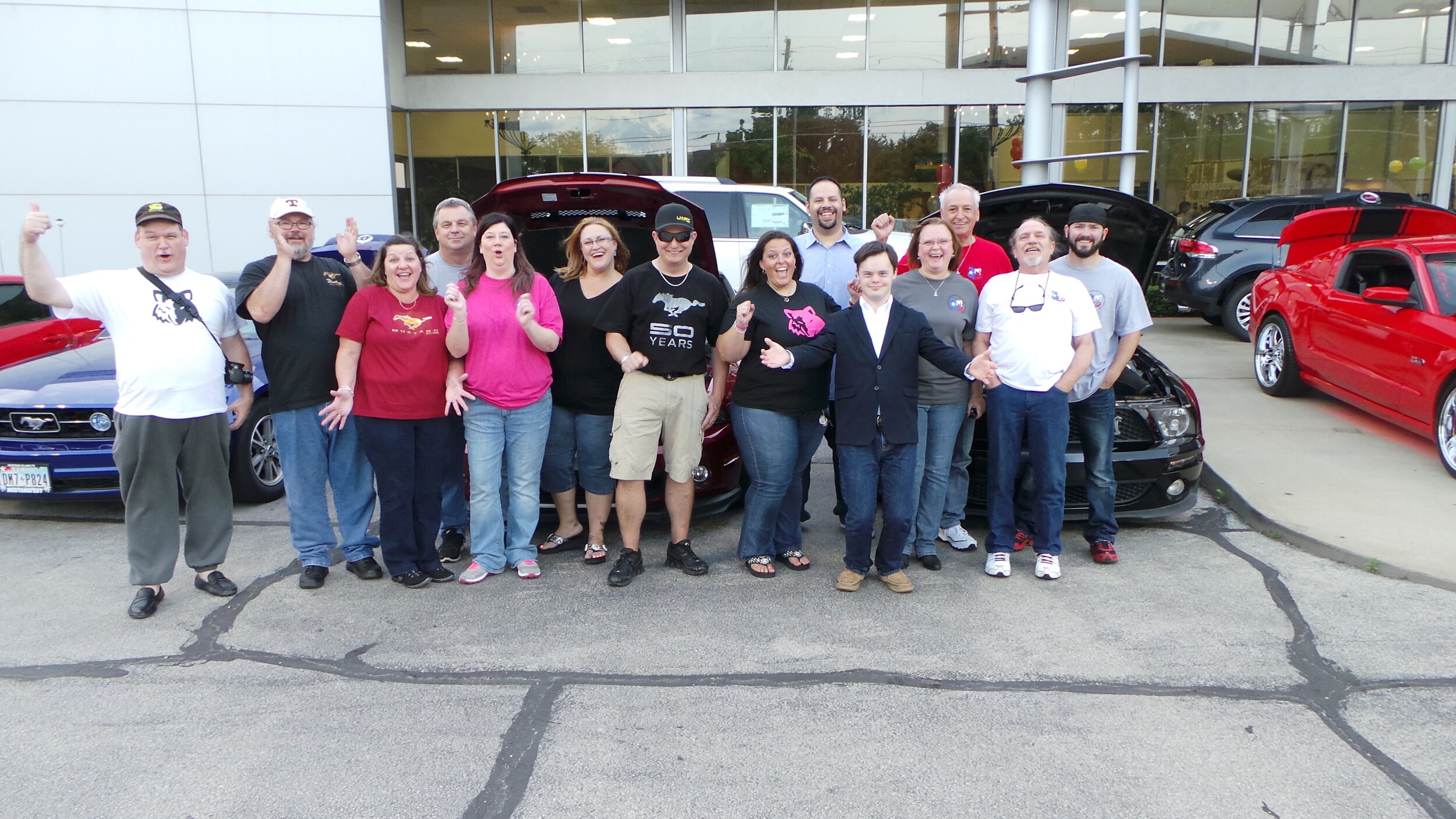 The party ended with a 10+ Mustang engine salute from members of the Lone Wolves club - lwmfcc.com - lead by Barry Carnahan (pictured here on the right with sunglasses around his neck) and his wife Sharon, revving their engines and peeling out of the dealership onto the adjacent boulevard. "Wow!" Nick said. "Wow!"